Offering Martin County Bail Bonds
Get bail bonds in Martin County, Okeechobee County, Broward, Miami-Dade, and Across Florida
The hours immediately after the arrest of someone you love are crucial: Sitting in jail any longer than necessary can lead to the loss of a job, and take a toll on families. If you need Martin County bail bonds, or bonds for anywhere in Florida, call one of our experienced agents. You need someone working on your behalf who has experience in the jails and courts in the area. Choose our agency, and we'll get your friend or family member out of jail and back home fast.
What is Bail & What is a Bond?
When a person is arrested, a certain dollar amount is set that must be paid in order for them to be released as they await their criminal trial. This is called bail. Bail acts as a sort of insurance that the defendant will return to complete their criminal case. Without the bail system, defendants would have to sit in jail for long periods of time and this would result in lost jobs and other negative impacts. Often, it can be difficult to post bail, because it must be paid in full to the court, and it must be paid in cash. When you work with a bail bondsman in Martin County, Broward County, Okeechobee County, or Miami-Dade County, however, you only have to pay a small percentage of the bail amount to the bondsman, who does the rest of the work for you.
Here's an overview of what to expect during each step of the arrest, booking, bail, and bond process. If you have any questions, don't hesitate to contact one of our experienced and helpful Okeechobee county bail bondsman.
We are a professional bail agency providing bonds in Miami-Dade, Broward, Martin, and Okeechobee counties, and across Florida. Our state-licensed agents provide exceptional service, and will answer any questions you have during the difficult time after the arrest of a loved one. We pride ourselves on getting you released from custody faster than any other agency in the area. Give us a call 24/7 to get started!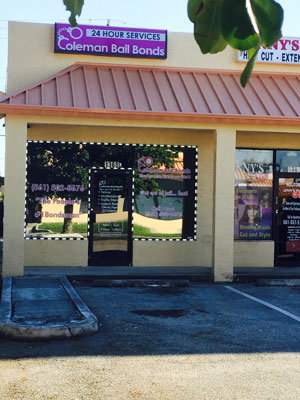 Get them bailed out fast!
Each of our bail bondsman in Martin County is available 24/7 so that you can get your loved one out of jail as quickly as possible. Give us a call and we'll answer any questions you have and get the process started!
Request Bail & Ask Questions